NEWSLETTER
August 2023
RIDES!
August 26 – Jon Dury's Annual Birthday MTB Ride at Lair of the Bear : 20 (ish) miles, meet at 10 am.  Beers and conversation after in the parking lot. 
August 27 –  CX practice and course cleanup at the B2B course in Golden at 11:00 am  – come join us if you've ever thought about racing cross or just wanted to find out what it's all about.  We will be cleaning the course and practicing some much needed skills.  Come watch us fall over while clipped in, fall down in the sand, and generally make fools of ourselves on bikes.  
September 16 – Phil Merrill Memorial Road Ride: Chatfield to REI and back, time tbd.  We will be joined by many of Phil's friends and family as we take this time to remember a good friend, teammate and all around good human.  
September 17 – End of Summer Social Ride-Multi Surface Ride beginning and ending at Living the Dream with La Presidenta as "Lantern Rouge".
October 8 – End of Road Season Party at Living the Dream Brewery: Road and Gravel Rides will be planned with after ride beer and food.
Wanna lead a ride? Please contact [email protected].
RECRUITING
It's that time of year again!  Time to start recruiting for the 2024 season.  Look for recruiting rides to pop up on the schedule soon and please, if you know of anyone interested in joining a team, send them our way. 
ANGELA AGAIN!
A HUGE shout out to Angela Pitzer! 
She took 9th place at the UCI World Championship Time Trial in Glasgow, Scotland.  Amazing job and way to go, Angela!!!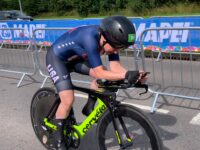 Angela Pitzer proving she's one of the best
JAY MIDDLETON
Jay completed his second Leadville Trail 100 on August 12th. He raced to raise funds for the charity First Descents. Please check out Bikes Kill Cancer for more about Jay.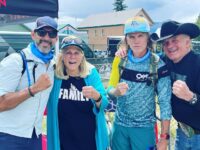 Jay Middleton looking all serious as he is flanked by Leadville founders Merilee and Ken
GOT USED GEAR?
We all accumulate tons of used bicycle clothing and gear after years of riding. It is often difficult to sell our old gear because it is out of date or no longer the right size or fit (you know, we gain, lose weight, gender transition, etc.). 
 There are lots of places to donate gear. Here are a few:
OR, our very own Dan Schrad would love  your old, gently used kits for the HS MTB team he coaches.
CROSS IS HERE
Cyclocross is a great way to maintain fitness in the offseason. It is both fun and competitive with course features that will challenge you and improve your bike handling skills. Think of it as a Tough Mudder except on bikes. While drop-bar, knobby tire CX bikes are preferred, mountain bikes are acceptable. A CX race is a party on wheels where racers hang out all day, beer and bacon are handed up to riders, and heckling and mischievousness are required.
IN MEMORIAM
We lost a beloved member of the Physio Phamily on July 26th. Phillip Merrill was struck by a minibus while riding his bicycle in Hong Kong. After extensive medical care and major surgery he unfortunately passed away. He was friendly, upbeat, gregarious, and his enthusiasm will be missed.  Please join us for the memorial ride scheduled for September 16th (see above for details).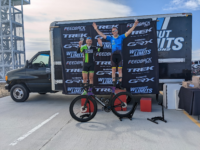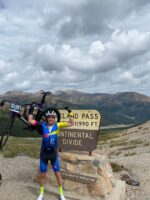 President – Erica Miller (she/her)
Vice President – Jon Dury
Secretary -Lora Mihelic
Treasurer – Jeanne Desautels
Officer-at-large – Dan Schrad
Physio Racing
PO Box 101766, Denver, CO 80250