Racing with Gamin and Strava
I was recently discussing Garmin settings applicable to racing with a teammate. I decided to make a post on the subject to solicit your suggestions as well, especially for an MTB race which I've never done. I will also discuss how to crop your race in Strava since, if you are as gassed as I am crossing the line, there is no way you are going to remember to hit stop.
Two great Garmin features for racing are Auto Pause and Auto Lap. Both are set from the activities profiles settings area so I'd first suggest setting up an activity called "Race".  Auto pause allows you to hit start during the painfully long wait at the start line and not worry about it again since it immediately pauses your time until you start racing. Auto lap creates a lap automatically from the spot where you start (or hit the lap button) if you set it to "Lap At Start and Lap". Strava will likely have a segment covering the entire race course as well, but if you have other software you might want your lap detail. It's especially interesting to note the variation in lap speeds during a Crit and should encourage you that the average pace always seems to slow down after the first few laps… about that time when you wondered if you could keep hanging on.
As for the "training pages" (the screens for the activity), I'm always tweaking that, but I currently use three – one for crits and road races, one for time trials and hill climbs, and one for the warm-up on the trainer. Here is what I setup for each:
Crits and Road Races
HR Zone – I mostly race based on perceived effort, but HR Zone is the one thing I frequently look at during a race just as a reality check. Fortunately, I don't freak out if it's much higher than a normal training ride. That's to be expected and may be related to nerves as much as anything. I like seeing the heart rate zone more than actual heart rate because it simplifies things and is easier to see. Of course, it also changes based on your latest threshold improvements, and that's the most important thing to notice… am I working over threshold or not.
Timer – The timer is mostly useful to me in a crit or road race for timing nutrition – i.e. sugars every 20 minutes.
Speed – Your speed is not very relevant to know but hey, it's fun to see and brag about after.
Lap – Knowing the lap is also not something that matters much during a race unless you've pre-estimated the number of laps in a Crit or have become completely delusional during your two or three lap RR.
Lap Distance – The lap distance can be especially helpful in a RR for managing your effort in that last lap.
 TT and Hill Climbs
HR Zone – See above
Power Avg. – If you have power, its great for pacing in a TT and climb. I am still surprised (and disappointed) at how I over exert at the beginning. I like seeing cumulative power along with 30 second power below. I try to target an cummulative average before the race then check my effort throughput against what's happening. Ideally I build to the target at the end, but that has yet to happen.
30 Second Power – I find I can't make any sense of my current effort using any of the settings at shorter intervals. It just jumps around too much.
Cadence – I like seeing cadence as another reality check against effort and I especially like to make sure I'm not putting in too many muscle draining low cadence efforts I can't recover from.
Timer – Again, the timer is useful for timing nutrition, and in a TT, needed to time your progressive effort against the expected time.
Distance – Again, you need to coordinate your effort against both time and distance.
 Stationary Warm-up
HR Zone – Good warm-up routines are focused around time in zones. The best all-around warm up I've used (by far) is the pyramid Jason recommended a few weeks ago.
Timer – See above
Time of Day – If you are like me you are obsessed with timing your warm-up perfectly against the start time and thus, you can keep an eye on the actual time right here during your warm-up.
Temp – Good for assessing last minute decisions on what to wear, especially since the Garmin thermometer, while wildly inaccurate, does seem to follow the "real feel" temperature.
Cadence – Keep your cadence high during the intense part of your warm-up to engage your aerobic system without overly stressing your muscles, which as stated before, you can't quickly recover from.
Crop your race in Strava.
In order to get a good estimate of race speed averages, etc., you want to trim out that recovery lap (or warm-up) you most likely included. Strava has a handy crop feature just for that:
Follow these steps: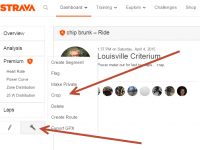 Then…

As for the analysis of your race effort…. let's save that for another post, and hopefully from a better and smarter racer than me.