pR Rider Spotlight – Claudia Manding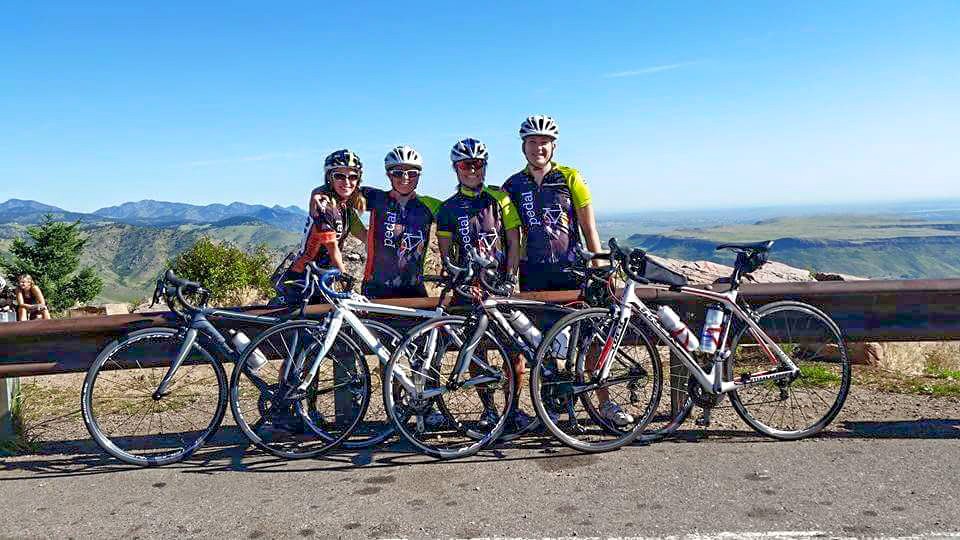 This week's pR spotlight is on team member Claudia Manding. Claudia is one of our pedal club ride leaders, and is doing some ambitious century (and longer!) rides this year. She's been training strong and we hope she has an awesome summer logging some big miles on the bike!
Hometown: Honolulu, Hawaii
Current Home: Lakewood, Colorado
Discipline: Mainly road, trying to get back to mountain, and testing out the cross bike thing.
When did you join pedal? 2015
How long have you been riding and racing? I started out mountain biking in 1996, took a long hiatus around 2002-ish and went off exploring heli-snowboarding in the Selkirk and Purcell mountain ranges in Canada, did a little bit of ice climbing and backpacking, and came back as a roadie in the spring of 2013.
What is your absolute favorite road or trail to ride? Favorite? I can't say – they've all been pretty fun to ride!
What piece of bike equipment/gear can you not live without? I don't think I can live without a bike anymore. The more bikes I have the better. What's that saying, 'N+1'?
Favorite thing to do when you're NOT riding your bike? Eating. Or cooking. Which comes first? I love to eat, therefore I love to cook and bake. -or- I love to cook and bake, therefore I love to eat.
Favorite motivational quote/saying? I have a few, depending on what's happening in my life. Currently, I am 'keeping my eye on the prize' and 'I'm paying it forward'.
Best race experience or highlight? I don't race. But I do get very excited and elated to see all my friends do well in their races! I see the hard work they put into training and to see it pay off as they do well in their races makes me happy!
The one ride that stands out for me, is Venus de Miles Metric Century 2015, which I did with Amanda McCray.  I rode the half century in 2014 solo, and got Amanda to join me last year, and we had such a blast!  I think we giggled 50 miles out of 62!  We're riding it again this year, and going for the century.
What are your goals for 2016? For 2016, I plan to finish my first century strong. And then finish a second century two weeks later. And then hopefully snag a double metric century two weeks after that! Well see. It's ambitious, but I don't have a thing to lose as long as I try, right?