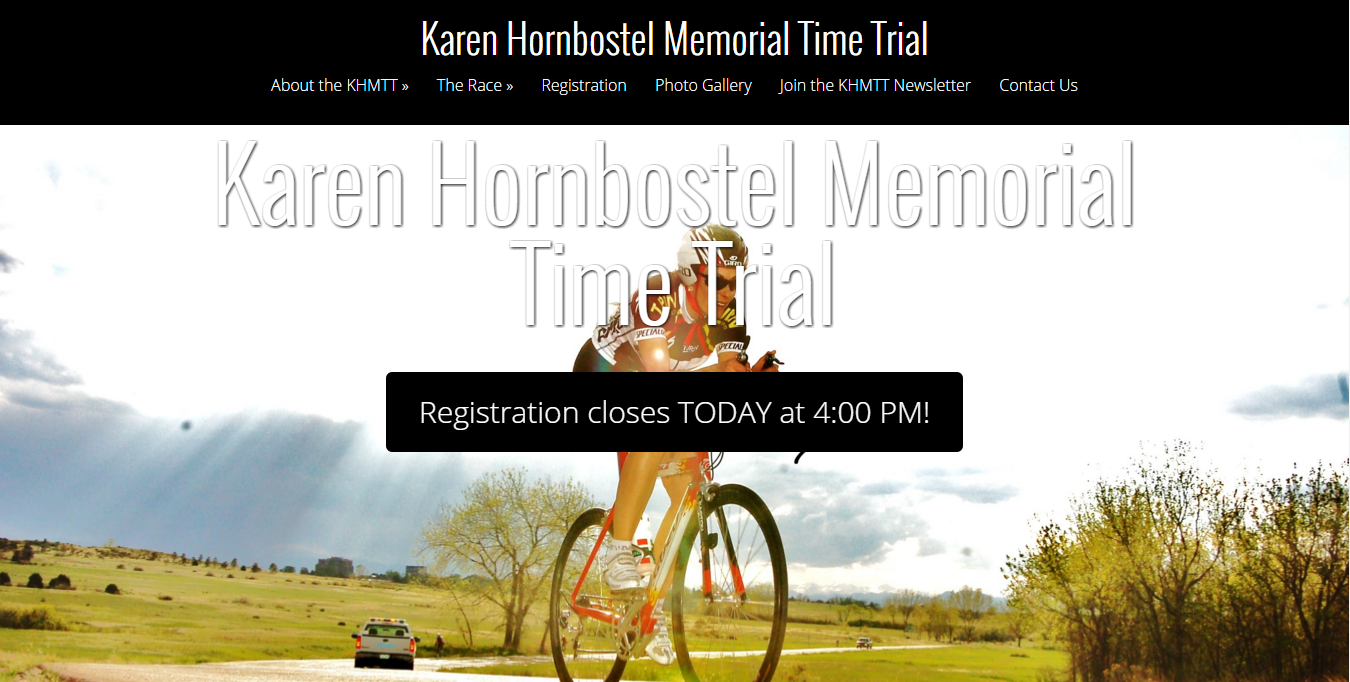 I'm sitting here reflecting on my return to bicycle racing last year and specifically on using the Karen Hornbostel Memorial Time Trial series at Cherry Creek Reservoir to reacquaint my legs and lungs to bicycle racing. The popularity of this time trial series is tremendous – and I cannot think of a better tribute to Karen's legacy.
I first crossed paths with Karen when she joined Columbine Cycle Club in the late 1970's. Some of our better riders were competing on various teams in the 1979 Red Zinger. We even had a women's team competing in our yellow and green Columbine jerseys.
Karen was a member of that team and would be lining up to race against some real legends of the sport. That would include a young Connie Carpenter, future world champion Beth Heiden, and multiple world champion Keetie van Oosten Hage of the Netherlands. Karen would go on to ride for some very good teams in Colorado and apply her degree in exercise physiology to help others learn to ride or just gain fitness.
In the late 1980's, Karen and I crossed paths again. I was now racing in the SM 35+ category and Karen was still racing with Senior Women. As luck would have it, the Bicycle Racing Association of Colorado was looking to hire a new executive director and office manager. Karen and I interviewed and were offered an opportunity to job share this one paid position.
We jumped at the opportunity with enthusiasm. While working as Karen's colleague, I witnessed her dedication and love for the sport first hand. I also became the beneficiary of her abilities as a mentor. I remember accompanying her with a group clinic of new racers, mostly women, to a new industrial park in Louisville. She took us through a series of structured exercises leading up to full speed criterium cornering techniques. I learned a lot that day and she made me a better rider.
During the week in the office between races, we often discussed the past week's races and our respective results. Her's were always better than mine. One day she casually asked me about my weekly training mileage. I stated that I routinely logged 300 miles a week. "Are you out of you cotton picking mind?" she demanded. "You need to cut your mileage immediately and then train harder in the middle of the week." Sound familiar? That is still the advice given to many riders who substitute quantity for quality.
On weekends, we were often on the race course together as the Senior Women and the SM 35+ shared the course at the same time. This provided me the opportunity to watch her mentor other women during the course of the race as our group passed her or her group passed us.
When the men are overtaking the women on a tight criterium circuit, everyone's HR begins to soar. The men sometimes revealed their nervousness by cussing and screaming at the women as if that would help the situation. In contrast, Karen's calm voice would help to steady the women and help them hold a predictable line as our group passed theirs. If it was a road race, Karen might be in the chase group, but she would be coaching and guiding the women with less experience to help them chase in an efficient pace line.
When our year working together came to a close, the BOD of BRAC wanted to move in another direction. I began a period of coaching soccer, while Karen became deeply involved in volunteering for the BRAC BOD and other non-profit boards involved in cycling.
Karen remained active in cycling, fitness, and then fate would throw down one more challenge and turn her into a cancer survivor. Our paths almost crossed one more time. I went to work for Foothills Park and Recreation District after a short span of teaching elementary school. When I was finally hired full time I became aware that Karen had a position at Foothills, something involving cancer solutions. I thought we would soon run into each other at an all staff meeting.
Because of some IT issues and a shortage of computers, I was unable to access my e-mail for a 3 month period. I finally kicked my boss off his computer one day so that I could clear my mail box. As I deleted e-mail after e-mail, Karen's last days played out in front of my eyes. She had become ill and contracted pneumonia. Day after day, her condition worsened. Then visitors were asked to stay away for a little while.
Then she was gone.
Then there was a fund raising sale of the pottery that she had created. I had missed the whole period while waiting for access to a computer. I had missed the opportunity to renew a treasured acquaintance – a chance to say good-bye.
So as I look at the success of the KHMTT series and its popularity, I can think of no better tribute to Karen. I am pleased that I had the opportunity to honor her by racing the series last year. I look forward to racing it again someday. I miss her.
I will always remember her as a teammate, a friend, and a mentor. I believe her spirit is still with us in Colorado. Karen, thank you for everything you have done for racing in Colorado. Long live your memorial time trial series.
Gary Harty
Editor's Note: for more information on this memorial racing event you can check out http://khmtt.com/