DU Criterium Race Report
The first crit of the 2015 racing season was held in Denver's City Park. After weeks of snow, the weather finally broke and cleared the roads just in time for the race. I registered for this race, just 13 weeks out from back surgery, as a test to gauge my return to racing form.
Being an open CAT 4 & 5 race means racing against riders of all ages and skill levels – some half my age. I didn't have any illusions about being able to stay with the peloton. My goal was just to hold on as long as possible.
We lined up at the start 75 strong and listened to the race director cover the rules, but all we really wanted to hear was "go". Finally we were off and the pace was fast and furious. I actually hit 34mph at one point on the initial lap. On a flat course, that's really moving. I managed to stay at the rear of the peloton for the first 6 laps before I fell off the back. Then I was on my own for the next 3 laps. Those were painful laps, but sometimes you have no choice. There were no other rider in front of me to catch and the guy sucking my wheel wasn't willing to do any work. So I suffered. Then to my relief a group of four riders caught me and I happily jumped on their train for the remainder of the race.
If you don't fully appreciate the benefit of riding in a pace group during a crit, take a look at my ride profile below. During the entire race, except for the "couldn't find a wheel" highlighted section I had someone's wheel. Look at my cadence & power and notice how little coasting or recovery I had during that section.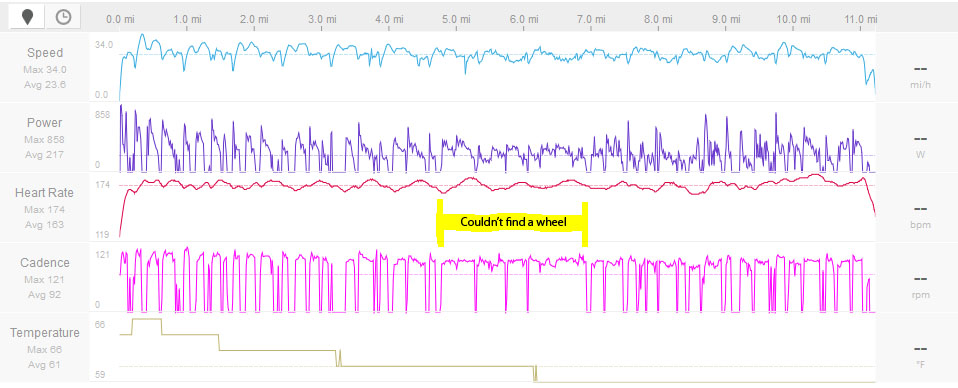 After 30 minutes of racing, I was finally caught/lapped by the peloton. Since the circuit was only 3/4 of a mile, I feel pretty good about holding them off that long. All in all, it was a fun day of racing and I really appreciated all my pedalRacing teammates who came out and cheered. You guys are the best.
-Dan Stoddard