5 Tools to Help You Stay Sane This Winter
It's Winter.  It's cold.  I just looked outside and, frankly, I don't want to go out there.  And I certainly don't want to ride my bike anywhere.  Looks like I'm stuck indoors just like the rest of you.
For those back east and us here in the Denver area we've had a string of storms that have come back to back and have made it almost impossible to find a day nice enough to ride.  And the trails haven't had time to breathe either – as soon as they see a little sunlight they get covered up again.  When this happens many of us start to get a little stir crazy.  I've put together a quick list of some great resources (i.e. Tools) that you can use to help you keep your sanity while riding indoors this winter.
First off, I have to say that the Physio Racing indoor training series has been fantastic this year.  Part of the reason is that we've had a very structured and targeted training program put on by our coach (and pR sponsor) Jason Short of Threshold Endurance – the other part of its success is that we've had a great place to train with a GROUP of fellow team members.  But what if this isn't an option?  What if you can't get 15 people in a room full of trainers and a professional coach helping you through the session?
Here are some of the best options I've found to keep your sanity:
Go to the Source: Threshold Endurance – One of the first things you could do is go to the same source that we've enjoyed the past few weeks.   A few weeks ago Jason put together a post on his site which discussed some training tricks you can do to still reap the benefits of training indoors but not go crazy by trying to spin for 3 hours.  His post, "Break Up Your Training With Targeted Indoor Spin Routines" – discusses how you can break up your relentless leg-spinning by introducing some targeted interval segments (focusing on Tempo, Tempo w/ microbursts and VO2 Max Intervals).  His article is a great place to start but you can also hit him up to see if you can get one of his coaches to help you build a customized training plan to help combat your winter weather doldrums.  Obviously Jason sponsors pR and he's local but if you don't live nearby then you could just as easily look up a cycling coach in your area and get a tailored plan.
Take a trip to Sufferlandria – I know, the last thing you want to do in bad weather is go on a trip – but this is a trip you can take from your own home.  Visit Sufferlandria with The Sufferfest!  Now, this isn't a fun and happy place.  In fact I think this video series actually makes training indoors worse but it's certainly worth it.  The people of Sufferlandria live by an acronym, more appropriately it's a code of life, IWBMATTKYT.  This code is what makes it all worth it.  I won't tell you what the acronym means but if you check out this video series, and take the trip, you will learn what it means.  Watch for a more in-depth article/review on the Sufferfest in the future.  In preparation for that article I hit up the founder of The Sufferfest, David McQuillen, and he was more than happy to share his vision.  As you will see he might just be a king sadist leading a ready army of masochists… he left me with this quote: "May you spread PAIN, MISERY and AGONY around the world".  Sounds fun, right?
Indoor Cycling Videos – Nothing like swinging the pendulum here!  We go from suffering, pain, agony & misery to this treat.  This series offers exceptionally beautiful scenery videos for Indoor Cycling – think calm, relaxed and beautiful German Countryside…  Each video is one full interruption-free cycling trip from one town (the starting point) to another town (the arrival point) through quaint villages, fields and woods and give the cyclist a feeling of a real bike ride in beautiful rural Germany.  The videos are available for download, on DVD and on USB flash drive.  This series would be perfect for the "recovery" rides the day after a visit to Sufferlandria.  I have to admit, they're pretty appealing and well made.
Youtube Videos – I've included this "tool" in here since there are many of us that already use it.  I've heard from several team members that they just go to Youtube and search for "bike training videos" and pull up something that looks nice to pass the time.  Most of the videos you find are not very targeted, not very specific and not very structured but they can help you stay sane while grinding away.  Some of the videos do offer "training routines" and can help you but they're tough to find sometimes.  If you've found some good ones, feel free to add the link below in the comment section and I'll try and revise this post with the good links.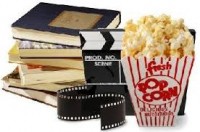 Read a book or watch a movie – This probably doesn't qualify as a tool, nor is it a very creative trick, but it is a good one – plus I had to get to 5 since that's what my title said!  If you're just in it for "seat time" then reading a book or watching a movie is a great way to pass the time.  If you have a Netflix, Hulu, or Amazon Prime account then you can watch almost unlimited movies while you ride.  It's a great way to catch up on a series or start one that you've wanted to see.  Books are a little more difficult (for me at least) but I've found that reading a book is actually really nice if you're practicing form on a TT bike – it's easy to get aero when you have a book resting on your aero bars.
Do you have any tips?  If you do please share them below.